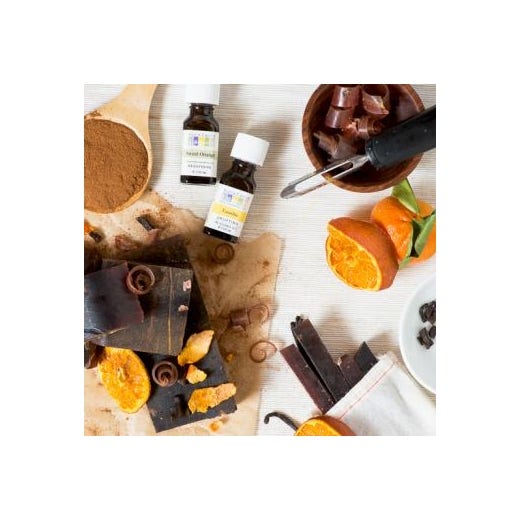 Cacao Vanilla Bean Soap with Sweet Orange Essential Oil
A simple melt-and-pour soap recipe featuring vanilla essential oil and sweet orange essential oil.
1/2 fl. oz. Vanilla (in Jojoba Oil)
1/2 fl. oz. Sweet Orange Essential Oil
2 1/2 lbs. Melt-and-Pour Soap Base
2 tablespoons Raw Cacao Nibs, finely chopped
1 Vanilla Bean, finely chopped
1 Nonstick Cake Pan (9x9), greased
Wax Paper
Tape
Silicon Spatula
Kitchen Scale
Directions
Line greased pan with wax paper, folding excess over rim and taping edges to sides of pan. Set aside.
In double boiler, heat soap base on low until melted. Remove from heat.
Add cacao nibs and vanilla bean to pot. Stir until smooth, then cool mixture enough that a "trace" develops when you lift the spoon.
Stir in essential oils. Once combined, pour mixture into pan and allow it to set.
Once firm, remove soap from pan and cut into squares. Let sit for 3 days before using.